RELX Essential Launch
The new RELX Essential has finally arrived! We've designed this product so that it contains everything you need in one device. Plus, you can order it at a price point you won't find anywhere else. 
Whether you're new to vaping or have been vaping for years, you need a reliable device to give you the ideal experience. Some key factors to look for in a vaping device include a smooth mouthfeel, dependable power, durability, and overall design. 
Below, we'll explore how the RELX Essential not only checks these boxes but also exceeds users' expectations.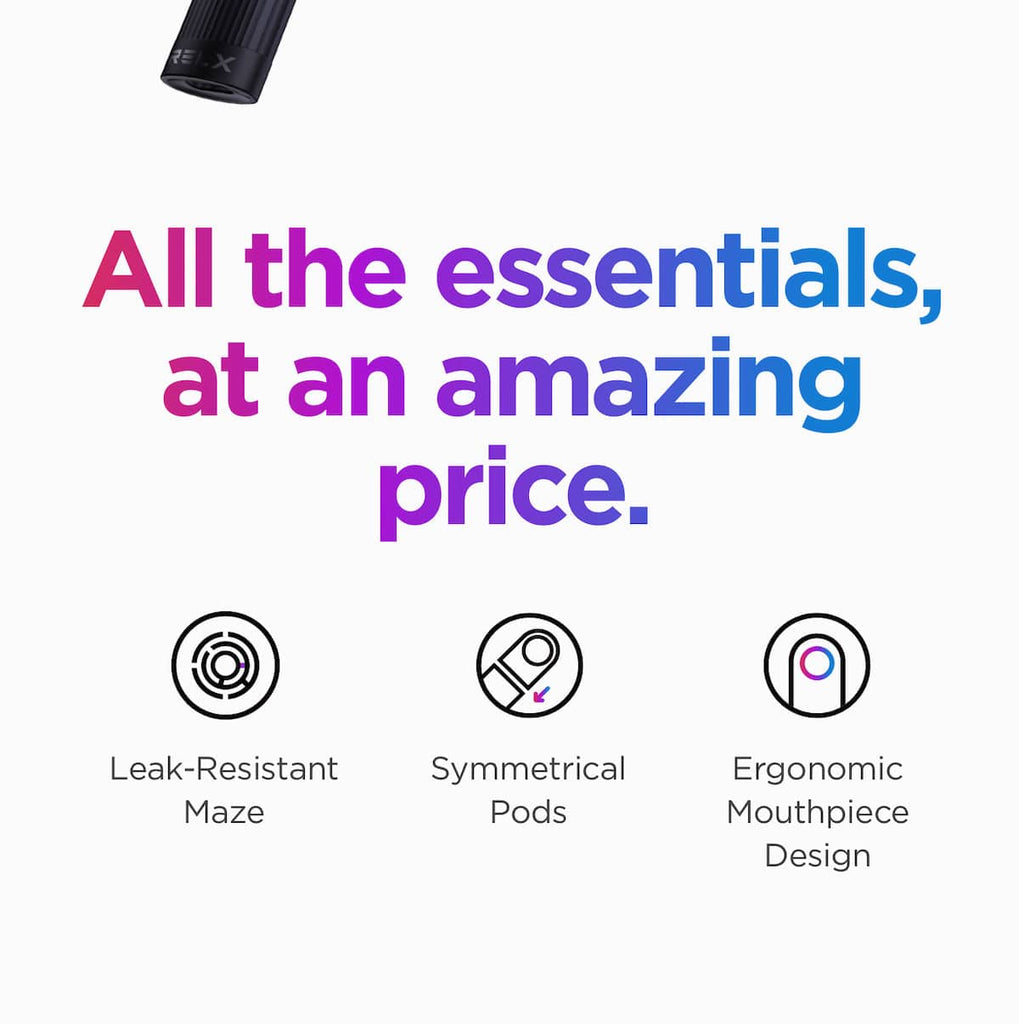 Everything You Need at One Amazing Price
For anyone who vapes regularly, it can quickly become annoying to own multiple devices. You might have to maintain, refill, and keep track of all your devices.
To offer vaping enthusiasts greater value, RELX has introduced the Essential. As the name implies, everything you need comes packed into this one device. It's ideal for every user's daily vaping sessions.
Check out some of its unique features:
Battery Life
With the RELX Essential, you don't have to worry about running out of battery life. The device will last up to 360 puffs on a single charge. This amount is more than enough to get you through the day.
Instead of wondering when and where you'll need to plug your device in next, you can vape with peace of mind, knowing that you have a long-lasting device in your hands. 
Comfortable Design
When it comes to finding the perfect vape device, you shouldn't neglect ergonomics. Your device should be comfortable to hold, use, and retrieve from your pocket.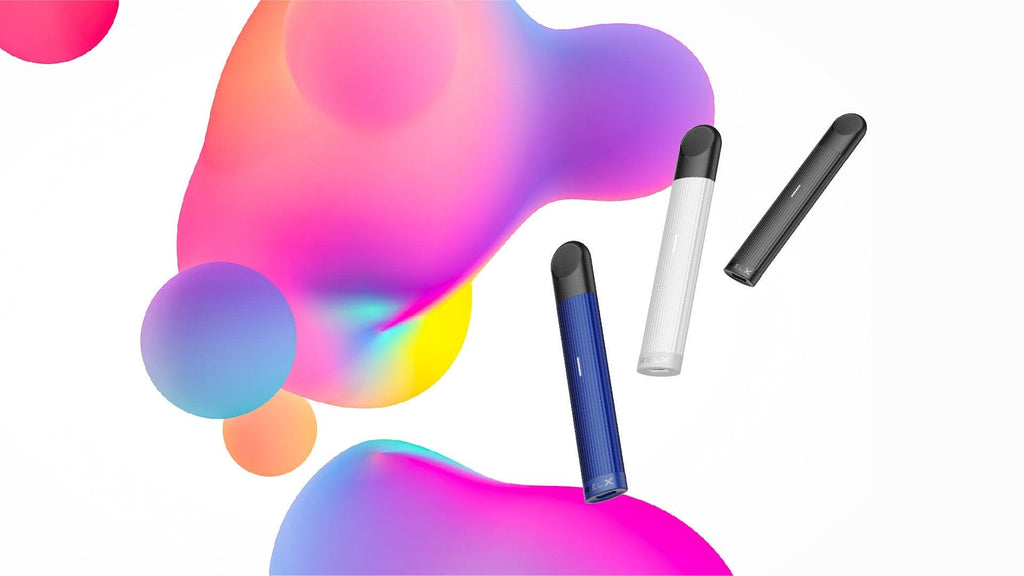 The Essential offers a unique design that allows for a comfortable user experience. It has a wavy surface texture that serves as reliable protection against everyday wear and tear. It also makes it very easy to grip and take out of your pocket or backpack. 
Type-C Charging
There's no doubt that the RELX Essential is long-lasting. When you do run out of power, this device is incredibly simple to charge. It uses a Type-C cable that you can plug into a desktop computer or wall adapter. After just 40 minutes of charging, your vape device will be fully powered and ready to use. 
This method of charging is much more convenient than that of other vape devices. Some require you to reload batteries, while others need to be thrown away after a single day's use. Rather than wasting money on other recharging methods, the Essential lets you easily recharge your device in under an hour.
The Essential is Super Smooth™
Essential features RELX's Super Smooth™ performance standard, which allows novice and veteran vapers the experience they are seeking. 
Some critical components of Super Smooth™ technology include:
A comfortable temperature: 

The Essential never produces vapor that's too hot for a vape user to handle comfortably. The vapor temperature stays at or below 55°C (or 131°F). This temperature is high enough to produce thick clouds of vapor, but it won't leave a burning taste in your mouth. 

Quiet use: 

With Essential, you can vape quietly. Each pull produces an inhalation that is lower than 10 decibels so that you won't disturb those around you.  

Rich vapor:

 The Essential produces puffs that are between 6-7.5mg in weight.. 

Fast activation:

 You don't have to wait for the atomizer to activate. It activates very quickly (in about 0.2 seconds). It's also pretty sensitive, so you don't have to inhale too forcefully. 

Draw resistance: 

RELX optimized the draw resistance to be plus or minus 0.4 kPa in terms of tolerance.  
You may be wondering how Super Smooth™ is possible. RELX had a team of over 100 research and development scientists perfect Super Smooth™. They performed 76 tests and were able to quantify the five performance factors mentioned above. 
The Super Smooth™ performance is possible, thanks to two specific technologies:
Air Boost: 

The Air Boost technology has a negative pressure airway design that allows for comfortable and seamless puffs.

Active-Steam Pro: 

The Active-Steam Pro technology is responsible for maintaining a balanced atomization process, preventing high temperatures.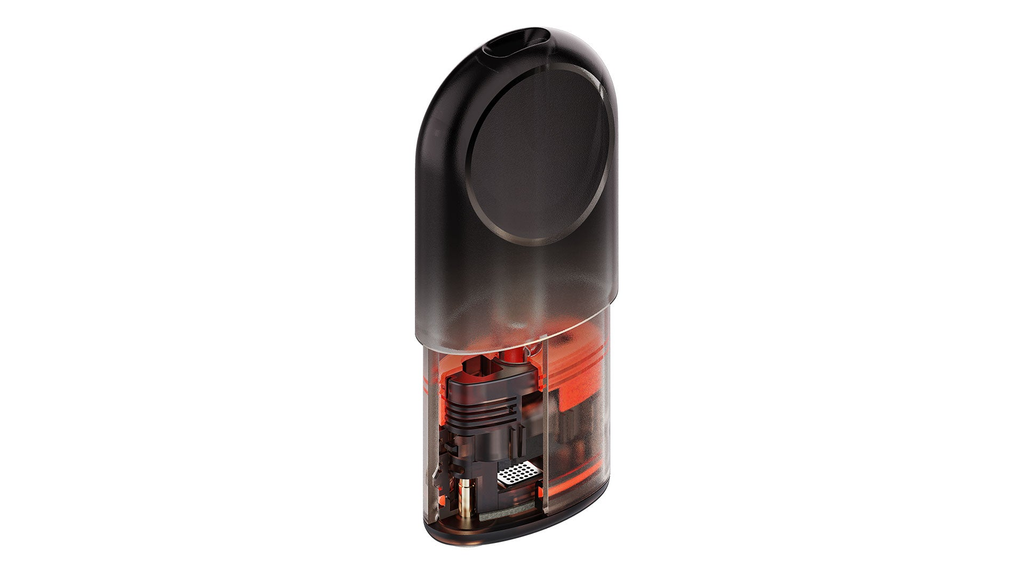 The RELX Pods Pro
The RELX device is compatible with the RELX Pod Pro. RELX Pod Pro offer enhanced protection against leakage in both your mouth and pockets. 
Each pod has 11 structural layers to prevent leaks, which provides you with a more secure vaping experience. Plus, the innovative maze-like structure traps condensation. 
When you purchase the Essential, you won't be stuck with the same old flavor. The compatible pods come in a variety of flavors, including:
Menthol Plus

Ludou Ice

Garden's Heart

Fresh Red

Dark Sparkle

Rich Tobacco

Tangy Purple
You can have fun experimenting and find the ones that you love! 
The RELX Pods Pro are available separately, so you'll need to keep this in mind as you plan for future use with the Essential. 

How the Essential Compares to the Infinity
The RELX Essential and RELX Infinity devices have a lot of similarities. For example, they both: 
Are compatible with the RELX Pods Pro

Offer Super Smooth™ Performance

Feature a leak-resistant maze for enhanced protection

Charge via a USB-C charging cable

Feature a design with symmetrical pods
Here are some standout features for Infinity:
An Award-Winning Design
While the Essential has a comfortable design, the Infinity offers a truly enhanced experience. 
The Infinity is exceptionally slim and sleek, making transport and use incredibly easy for vapers. 
If you need further proof of the greatness of Infinity's design, it won the Red Dot Award in 2020. This prestigious German award recognizes the most innovative products every year. It takes applications from over 60 countries, and it's one of the top four design awards in the world. 
A Charging Case
If you thought the Essential's charging capabilities were convenient, you're in for a treat with the Infinity. This advanced vape device is complemented with its very own handy charging case (sold separately).
It's not bulky, so you can slide it into your pocket or backpack as easily as you could with the device. 
If you don't have the case on you, you can also use the USB-C charging cable to charge your vape device. 
The Smart Pace Vibration Alert 
The Smart Pace Vibration Alert will alert you with a subtle vibration when you take 15 puffs within a 15-minute timeframe. This helpful reminder is perfect for new vapers, as it can help them keep track of their usage habits. It can also benefit seasoned vapers and help them break old patterns.
The reminder is a subtle vibration, so it won't be noisy or intrusive. If you choose to, you can ignore it and continue using the device as usual. 
Increased Battery Capacity
The Essential has a battery capacity of 350mAh, while the Infinity has a battery capacity of 380mAh. The Infinity's higher battery capacity will allow it to last even longer than the Essential. 
The Choice Is Yours!
Both the RELX Essential and Infinity are solid choices for vaping enthusiasts. 
RELX has introduced both to offer you a choice based on your needs and budget. 
Many users have opted for the Essential because of its lower price tag and inclusion of vital features. It has all the basics needed to provide you with a great vaping experience. 
However, both are affordable choices for vaping enthusiasts. Use this guide to help you determine which one is right for you and make your purchase today! 
---
Also in Product Review