RELX in the City – Manchester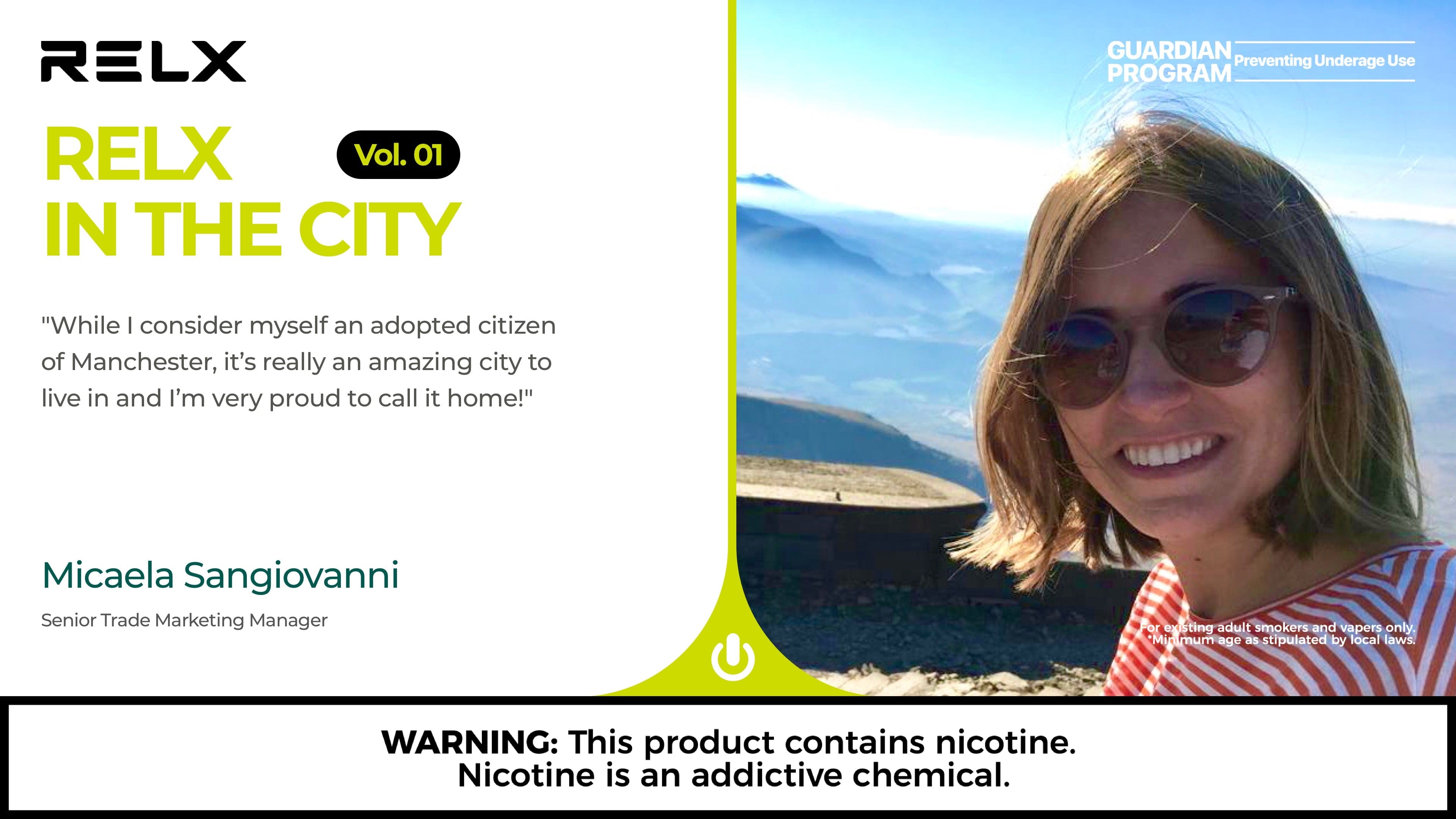 As a global brand with strong local presences in the communities where we operate, RELX has an intimate knowledge of a variety of cities and regions around the world.
With this newest series, RELX in the City, we're taking a moment to zoom in on some of the most interesting (and often overlooked) cities where we operate to give you an idea of what you might want to see and do should you ever visit. And, as Covid-19 is being brought under control in more and more regions globally, the ability to indulge your travel bug might just be coming sooner than you think.
In the first installation of RELX in the City, we're taking a look at Manchester, England, "the cultural capital of the UK and outright capital of the North," according to Mica Sangiovanni, our RELX Senior Trade Marketing Manager in residence and local expert. Let's take a look at what Mica has to say about Manchester below.
Located in the northwestern inland of England, Manchester is one of the UK's most culturally vibrant cities, having been the birthplace of some of the most iconic and influential bands of the latter part of the 20th century such as Oasis, the Smiths, Joy Division and more. With such a strong creative energy, Manchester must have some serious gems in store for travelers to the city, right? Thankfully, I'm here to offer up some tips should you ever get the chance to visit now that things are beginning to open back up post-Covid.
What to See
With a rich history stretching back to the 1st century, Manchester is filled with some incredible historic landmarks. Manchester Cathedral and the John Rylands Library need to be on your Manchester sightseeing agenda if you love soaking in some absolutely stunning architecture.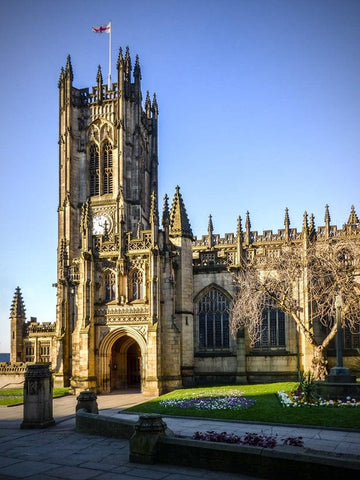 "Manchester Cathedral" by Matthew_Hartley
Set in the heart of the city's Medieval Quarter, Manchester Cathedral is what now sits on the site of earlier churches dating back to at least the 1000s. The cathedral as it stands today was partially rebuilt and renovated in a gothic architectural style in 1421. The church features gorgeous stone arches, stained glass windows, beautiful relief carvings and even ancient archives. The cathedral is free to visit (though a small donation is recommended).
John Rylands Library, meanwhile, is part of the University of Manchester. It was built in the Victorian period in the neo-Gothic style and houses some of the most important, rare books in the world, including various medieval illuminated manuscripts and even a Gutenberg Bible. However, the real magic lies in the gorgeous architecture. Standing on the mezzanine, looking down at the rows of old wooden tables and chairs, you'll need to pause for a moment to take in the sheer awe-inspiring beauty of this stunning library.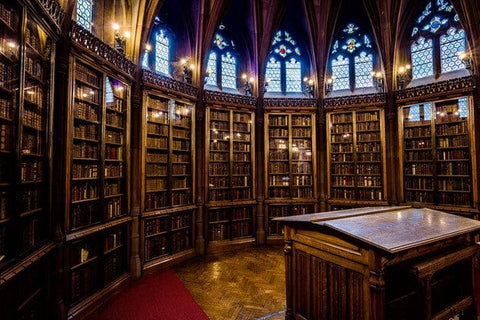 Reading room enclave at John Rylands Library
After you're left dumbstruck by the wonderful architecture of Manchester Cathedral and John Ryland's Library, you might need to stretch your legs in Manchester's Northern Quarter. Smack dab between the renowned Piccadilly station, Victoria station and Ancoats, the Northern Quarter is a hub of alternative, urban culture home to plenty of interesting little shops and things to see.Reading room enclave at John Rylands Library
Where to Eat
You'll likely need a bite to eat and a cold (or hot depending on the season) beverage to refresh and regroup after seeing all the sites above. Fortunately for you, I have the lowdown on some of the best eats and craft beer in the city.
While the first thing you think of when you think "food + UK" might not be pizza, it's definitely worth your time to stop in at Rudy's Pizza for a fresh-out-of-the-oven Neapolitan slice. My favorite is classic margherita, but obviously you should follow your heart's desire here.
For a different sort of bite, accompanied by some great boozy beverages, there's also Cocktail Beer Ramen + Bun, which specializes in Tonkotsu ramen (a style featuring a rich porky broth) and "buns" filled with everything from chicken to pork belly to vegetarian options like panko-breaded oyster mushroom. Everything can be washed down with a cold pint, or one of the specialty cocktails from the restaurant's seasonal cocktail menu.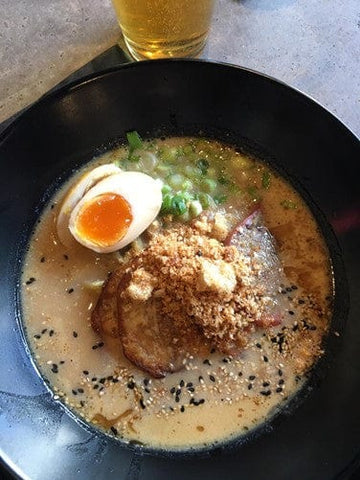 A bowl of ramen from Cocktail Beer Ramen + Bun
There're also some incredible breweries in Manchester including ShinDigger and CloudWater serving up locally brewed, effervescent concoctions that are sure to delight your tastebuds and of course, leave you feeling a little more relaxed. You can even book tours of the CloudWater brewery to get an inside look at how they make their delicious suds.
What to Do
It wouldn't be a guide to Manchester without mentioning football, and I hear there're a couple of decent teams in town. When you're in Manchester, you'd be remiss not to catch a City or United game (depending on your persuasion) at their home stadium if you have the chance.
Aside from great night life, Manchester also sits next to the UK's Lake District and Peak District, which are home to some of the best hikes and outdoor recreation in the country. There are walks and cycling woven throughout the British countryside, with amazing views.
If the arts and culture are more your speed, there are amazing theaters, including the Palace Theatre and the Royal Exchange, which regularly show some of the biggest and most recognized shows from around the world.
While I consider myself an adopted citizen of Manchester, it's really an amazing city to live in and I'm very proud to call it home! I also love how 'Mancunians' are so proud of their locale and love the city so much!
There's one caveat though – if its beautiful weather you're looking for, you might want to adjust your plans and head to one of the warmer cities that we'll be featuring on RELX in the City in the coming weeks.
Did we miss anything? Do you have a favorite site to see, restaurant to eat at, bar to sip a drink at? Let us know in the comments below!
*If you're an adult smoker or vaper wondering where to purchase RELX products in Manchester, why not visit our store locator (give link) to find the RELX outlet nearest to you? Our e-commerce site (give link) also delivers to Manchester if you'd rather order our products from the comfort of your own home or hotel.
**RELX reminds everyone to not travel before taking all necessary precautions and to be mindful of local laws and regulations regarding health and safety, as well as the use of any vapor or e-cigarette products. Travel safely and responsibly, and of course, have fun.
---
Also in Blog and Additional Resources from RELX